Billie Frank
The Santa Fe Traveler Co-Founder
Twenty Questions with Featured Travel Pro
Billie Frank and her husband, Steve Collins, own and operate
The Santa Fe Traveler
, a travel-concierge and trip-planning business for visitors to Santa Fe, New Mexico. They have been on the road together, one way or another, for over thirty-seven years. They are passionate about food, travel and their home-town of Santa Fe. Billie was a concierge at two of Santa Fe's finest hotels for four years and has a background of over twenty-five years in sales, marketing and customer service. She is a freelance writer covering Santa Fe and beyond. Her work has appeared in Colorado and New Mexico print publications and on the web.
Steve is an award-winning cookbook writer and a columnist for National Barbecue News and has been a personal chef, executive chef at a small inn and cafe owner. He also worked in guest services at a Relais and Chateaux collection property in Santa Fe for over three years. I've been following Billie on Twitter (@SantaFeTraveler) almost since I joined and recently caught up with her to pose my twenty questions for travel pros.




Let's Talk About You:
Tell me a bit about yourself: I got into the hospitality business in 2004 as hospitality manager at a small, up-scale inn south of Santa Fe. When we left there (it was a live-in position) I became a concierge at two Four-Diamond Santa Fe hotels. When I decided I wanted to work for myself, The Santa Fe Traveler was born. We (my husband now works with me) are a travel-concierge and trip-planning resource for people visiting here.
Billie's Expert Concierge tip: When you are planning your trip, call the hotel's concierge desk and ask the concierge on duty to help you plan your stay and make sure the concierge understands your likes and dislikes and what interests you so a visit with appropriate recommendations and reservations for you can be designed.
Tell me about your travel website:
I have two travel sites. The Santa Fe Traveler is the business' site and Santa Fe Travelers is our blog site. We also have, The Home Chef, we established when my husband wrote a cookbook eight years ago.


[Photo: Petroglyphs in Santa Fe by Steve Collins]

"The Petroglyphs are one of the things
that make Santa Fe a special place."
Billie Frank
How old were you when you got your first passport and where did you travel to so you could "break it in?"
Twenty-one. Planned a trip to Europe as a college graduation present to myself. The thing was, it was the middle of exams.
What kind of traveler are you? I'm a moderate budget traveler with Champagne taste. Our last trip was to San Diego. It was cloudy and rainy the entire time and we still had a ball. We stayed at four different hotels: I wrote about one stay and have to work the others in. We ate in great restaurants and played tourist. Right now, I have to stick close to home as I am on a really strict and wacky allergy-elimination diet. Eating in a restaurant is challenging. We are hoping to go to Vancouver for the TBEX (Travle Bloggers Exchange) Conference in June. Going will depend on where I am with the diet- have to be able to dine out without hassles.
How many countries have you been to and which ones were your favorites? I've been to six countries and 45 of the lower-48 states. My favorite place is Ireland. My spirit feels like it's come home when I'm there. Next on the to-do list are Italy and Spain.
[Photo: Drombeg Stone Circle, County Cork by Steve Collins]
Let's Talk About Airports & Packing
Are you someone who arrives at the airport with lots of time before your departure or just in the nick of time prior to departure and why? I get there right about when I'm supposed to. Once traveled with a nick of time person. It made me crazy.
What are your top tips for going through TSA lines quickly and with no hitches? The least hitch I've experienced is going through In a wheelchair; you usually get to go to the head of the line- as the person pushing it needs to be available quickly. Other than that, get your metal stuff and liquids into the bin and get your shoes off and smile.
What is the one item you've discovered that changed your airline travel experience for the better? I am not a fan of recycled plane air. I travel with a personal air purifier called a Fresh Air Buddy. It's technically an ionizer. I no longer get sick when traveling. It's available online.
What are five items you always have in your carry-on and won't leave home without? I wrote a post for Girls Getaway on Ten Things That are Always in My Carry-on so I'll whittle it down to five.
Prescription meds
Personal care products (in 3 oz bottles and tubes)
Cell-phone charger
A change of underwear and clean shirt
Books (a novel and NY Sunday Times Crossword Puzzle Book- and no I can't finish them, but my husband can)

What is your best packing tip? Make a list of what you absolutely need to take and check the items off as you pack them.


Let's Talk About Travel Brands, Travel Deals & Loyalty
Are you loyal to travel brands or do you always book the best price and why? I have absolutely NO loyalty. There are companies that I prefer and I check them to see what prices they're offering and then I shop around. For me the bottom line is price AND level of service. For instance, I'd never fly RyanAir unless they become more service oriented - or service oriented at all. Would love to go five-star all the way, all the time, but that's not in my budget.
What airline do you fly the most and what do you like best about it? Depends on where we're headed. These days, if we can drive, we do. Flying has become a complete hassle as far as I'm concerned. Albuquerque is a relatively small airport with a shortage of non-stop flights and a more limited choice of airlines. Southwest generally has the best fares and I like the casual approach of the flight attendants.
What are your three best tips for maximizing travel loyalty miles, points, etc.? I don't do this, but obviously airline loyalty will build points faster and if you have that airlines credit card and use it, they build even faster.
What's your best loyalty rewards story or the best travel deal you ever got? We got a great deal to Ireland in 1998. British Air had begun service from London to Denver and was offering $199 round trip fares-we missed them. It turned out Delta was matching the fare. I called; they could get us there, but not back. I was totally frustrated. The next morning, on a whim, I tried again. I got one of the best customer service agents ever. The same outbound flight was still there at the price. Who'd book it if they couldn't get home? She played around a while and was able to bring us back through Brussels. (I guess that makes seven countries I've been to since I was in the airport there.) The return trip was a long and crazy travel day, but worth it. It cost us almost as much to fly round trip London/Shannon as to get to London.


Let's Talk About Your Travel Experience:
What's the biggest challenge in finding a fun and compatible travel partner? I've been married to my travel-partner for 37 years and while I have done some traveling with others, I found that he is the best travel partner for me. We enjoy the same things, so we don't have to compromise on what we do.


[Photo: Old Point Loma Lighthouse, San Diego, CA by Steve Collins]
When you travel to a country where you don't speak the language, do you learn key phrases, carry a phrase book, or learn the language before you go?
I'm not into phrase books per se, but I do learn the key phrases: "Do you speak English?" "Where's the bathroom?" "How much is that?" and "Check please," at the very least. I have a mental block when it comes to languages - have a hard enough time with English. I find that if you have a sense of humor and are creative you can get by well. I once bought a pair of shoes with faces and hand gestures- the first pair was too tight. The salesman got it. We both had a great time and I'm sure I brought laughs to his dinner table that night.
What's the first thing you do when you get to your vacation destination and why? Depends on where I am, time of day and how long it took to get there. These days, I am fanatic about bedbug checking and prevention. I have a routine. The next thing I do probably involves eating.
Describe your most memorable travel food experience ever. I will never forget this. I can't remember the name of the restaurant- it was a Vietnamese place on Rue de Dragon, an alley, off Saint Germain des Pré in Paris. It was the first time I ever tasted Vietnamese food and it was extraordinary. I have been to lots of Vietnamese places since trying to find that meal without success. What I remember most was the chicken soup with rice vermicelli noodles (better than any Pho I have since tried) and the Boeuf en Brochette. They were so good we went back three times. There was definitely French influence in the food. I even tried Vietnamese food in Montreal thinking it would be close, but it wasn't.
What's your favorite souvenir to bring back from a trip and why? Small rocks and folk art or handmade textiles/clothing. I love to bring back rocks as they have a strong sense of place. I even bring them back as gifts and include a piece of paper telling something about where they are from. Folk art and textiles are a passion of mine and when I find ones I love, they go into the suitcase.
Of all the places you visited, choose one that changed the way you think about life or history… Ellis Island, where my grandparents entered the US made a profound impression on me. You can feel the pain stored in the walls.


I want to thank Billie Frank for a great interview and insight into this interesting travel pro's background. Remember, if you're planning a trip to Santa Fe, Billie can help you plan a memorable time in this enchanting Southwestern town. Also, follow her on Twitter @SantaFeTraveler.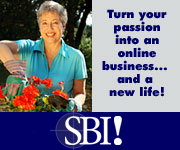 Marianne Schwab
TV Travel Show Producer
Best Travel Deals Tips

Back to Best-Travel-Deals-Tips Home Page
---