Cathy Sweeney
Traveling With Sweeney
Twenty Questions with Featured Travel Blogger
Cathy Sweeney started her travel blog,
Traveling with Sweeney
, to share her perspectives on places she'd been, places she wants to go, great travel ideas she's heard about, tips she's learned or just travel-related topics that she finds interesting. Her blogs reveal a lot about who she is as she opens a window into her travels with friends, family, and people she's met along the way.
Cathy grew up with a love of travel and her blogging may be nostalgic at times. As a kid, she spent hours looking at road maps with her parents and sister as they traced the routes they had already traveled and envisioned their path for the next driving adventure in North America. By the time she was about 10, she had a travel guide collection of brochures and glossy booklets covering destinations around the world. Her love for and the anticipation of travel has always been strong and, in her words, "has been fortunate to have a wide range of U.S. and a modest range of international travel experiences." Cathy was also founder, editor and publisher of First Dog Barking, an innovative, high quality travel website and e-newsletter that focused on traveling with pets. She took my 20 Questions for Travel Bloggers Challenge and I know you'll love getting to know Cathy as much as I have.


[Photo: Cathy Sweeney at a Latin Quarter Wine Bar, Paris, France]
Let's Talk About You:
Tell me a bit about yourself: I guess I'd describe myself as a travel enthusiast and blogger. I wish that there had been such a thing as blogging years ago. I would have loved to be a travel writer/journalist, but I didn't have the credentials or an idea about how to get such a job. So in a way, I'm now doing something that I always wanted to do. I started experimenting with the blog last summer, but didn't really get serious until about five months ago.
Tell me about your travel blog: Traveling with Sweeney is primarily about my personal travel experiences and what made them special. The content reflects my lifelong passion for travel and I hope it inspires others to travel or remember their own journeys. I also post a lot of photos to help paint the picture of places and events. The site is evolving and I'm going to be including more guest posts, special features, and tips.
How old were you when you got your first passport and where did you travel to so you could "break it in? We didn't always need passports to travel to Canada, Mexico and the Caribbean from the United States. I got my first one when I was 23 years old for a business trip to London. Unfortunately, the trip was cancelled which was very disappointing. I actually broke it in on a trip to Virgin Gorda in the British Virgin Islands.
What kind of traveler are you? I'd characterize myself as a "ready to go at a moment's notice" traveler. I like to travel as often and as well as possible, but do have to keep a budget in mind, so it's not as often as I'd like. I sometimes go along on my husband's business trips and while in a destination am really a solo traveler – he stays focused on business and I stay focused on exploration.
We went to Paris in early December on a non-business trip that was planned on short notice and was only for 3 days/3 nights. It was a short time, but it was wonderful. We stayed in a 17th century apartment in the Latin Quarter and it was an awesome experience. I'd recommend to everyone that they stay in a Paris apartment at least once. The view from our window was the amazing gothic church, Saint-Séverin and Notre Dame was just a short walk away. An afternoon in Montmartre was a highlight this trip, too. We were delighted that there was a pretty good snowfall while we were there, too. Paris is a wonderful city for walking around and just enjoying being in Paris! We packed in as much as people can in a short period of time, which is something we're pretty good at doing.
How many countries have you been to and which ones were your favorites? I've been to 14 countries and territories, so I've got a long way to go on my bucket list! My travel in North America has been quite extensive, 47 of 50 states; I've been to most of the Canadian provinces; and several places in Mexico. It's always difficult for me to pick favorites, but I'll mention a couple. Ireland is an amazing place. It means a lot to me since my ancestors on my father's side come from there and it's beautiful country with such warm, friendly people. I'd also say England. It totally exceeded my expectations when I first visited. I have fairly high expectations for places I go and I'm not usually disappointed, but I was surprised that I fell for England as hard as I did.


[Photo: Cathy Sweeney at Oxford, Great Britain]
Let's Talk About Airports & Packing:
Are you someone who arrives at the airport with lots of time before your departure or just in the nick of time prior to departure and why? Depends on if I'm traveling with my husband or not. If I am, we usually get to the airport just in the nick of time. On my own, I allow a comfortable amount of time – enough to buy snacks and a magazine without racing through the airport.
What are your top tips for going through TSA lines quickly and with no hitches? Wear shoes that are easy to slip off and on, keep the scarf in the carry-on until after security and have the toiletries plastic bag and laptop easily accessible. While waiting in lines, I already start unzipping the computer bag, etc. And by all means, if you've been traveling around with a corkscrew in your carry-on, leave it behind or put it in your checked luggage.
What is the one item you've discovered that changed your airline travel experience for the better? I'm afraid I don't have any state of the art gadget tip. For me, there were two milestones in improved air travel. The first was when I got my iPod several years ago. It changed my whole in-flight entertainment experience. The second was when I started to wear scarves. They're great for dealing with the unpredictable (but usually freezing) temperatures on a plane. You can keep it around your neck or not, and the new infinity scarves are great for use as a headscarf, as well. I'm thinking about getting a Kindle so that I can start reading more books again.

What are five items you always have in your carry-on and won't leave home without?
(1) A few energy bars – just in case.
(2) Laptop, because a travel blogger's job is never done.
(3) A good hand cream or body lotion for dry skin because my hands are especially dry while flying.
(4) A few special family photos.
(5) Cell phone. I don't know how we ever got anywhere before them. I was a good ways to the airport once and went back to get it. That was the one instance when it was my fault, not my husband's, that I got to SFO just in the nick of time.


[Photo: Cathy Sweeney & Husband at Glacier National Park, Montana]
What is your best packing tip? I only travel with carry-on bags except in rare instances, but I have a tendency to want to overpack. So I prioritize and sort. I pull all of the possibilities out of the closet and start by separating the essential pieces from the nice-to-haves. When the basics are in, then I can add in extras. Bottom line: take as little as possible. I keep things very simple. Sometimes if I need to have something special with meI'll ship a few things ahead to my destination – if it's not too expensive. I find that running shoes take up a lot of space in a bag, so I've got extra pairs in Chicago with a friend and in Wisconsin with my husband's family.


Let's Talk About Travel Brands, Travel Deals & Loyalty:
Are you loyal to travel brands or do you always book the best price and why? I'm usually loyal to United Airlines unless there's a fare difference or they just don't have a convenient flight. I almost always rent from Budget because I've found their rates to be very competitive and I'm a FastBreak customer, which is very convenient. I've experienced very good customer service with Budget, too. I don't have a real loyalty to hotels since they seem to vary so much depending upon location. Although it's not often in the budget, I like Sofitel and Affinia hotels. I really like a few of the travel sites like yours that I've found through social media. It's also nice to follow so many bloggers whose personal experiences are very helpful.
What airline do you fly the most and what do you like best about it? The biggest reason I fly United is because I often use my husband's award miles. Also, I travel to Chicago a lot and it's a major hub for United, giving me lots of schedule options. And the Continental merger is opening up a lot of other options, which is nice.
What are your four best tips for maximizing travel loyalty miles, points, etc.? 1) Make sure you register for any special promotions the airline has to double or triple your mileage earnings; 2) Don't forget to add your airline frequent flyer number to hotel and rental car reservations;
3) Don't use airlines miles for a ticket if there is a very low fare available (unless it's still not in your budget, of course. Save the miles for more expensive flights; and 4) Don't let the miles in your account expire!


[Photo: Cathy Sweeney at Big Sur, California]
What's your best loyalty rewards story or the best travel deal you ever got?
My rewards stories are pretty average, I think. It's not usually a matter of thinking I got an extra special deal. It's more a matter of whether it made more sense for me to use the miles or pay cash at the time. However, there have been a couple of times when I was able to get a First Class ticket using the same amount of miles as a coach ticket would have used. There was a slightly different, but just as convenient schedule. When I was checking availability, I just did a quick search for "First Class Saver Awards" on United and those flights came up. The only Economy Award tickets that were available were at the "Standard" level which equaled the First Class Saver level. I think I need to start focusing on getting some travel deals! How do I get that
China First Class for $99
deal you mentioned?
Let's Talk About Your Travel Experience:
What's the biggest challenge in finding a fun and compatible travel partner? It's not a challenge for me, since my husband is usually my travel partner. I've also done some traveling with a very good friend. Otherwise, I'm actually quite happy as a solo traveler.
When you travel to a country where you don't speak the language, do you learn key phrases, carry a phrase book, or learn the language before you go? I try to do all of that – learn phrases, always carry a phrase book and try to learn as much as possible before I go. One of the most important things I learned to say in French was "Je suis désolé. Mon français est si mauvais!" ("I'm sorry. My French is so bad!"). It's turned a few waiters in Paris from surly to friendly. I also watch as many foreign language movies as possible before I go.
What's the first thing you do when you get to your vacation destination and why? I quickly check out the room for obvious problems, unpack and then get out and about. That usually means heading out on foot whether I've got a particular destination in mind or just exploring. Occasionally, when I've been in a new city and felt that I needed to get a feel for the place before venturing out alone, I've taken a hop on/hop off buses for a short while (important word here being "short"). It definitely gets you labeled as a tourist, but it's a good way to get your bearings in some places.


[Photo: Cathy Sweeney at Cliffs of Moher, Ireland]
Describe your most memorable travel food experience ever.

We stayed in a cabin at a small resort called Point-no-Point Resort near Sooke, on the southwest coast of Vancouver Island, British Columbia. It was quite secluded and had only about 25 cabins. However, it also had a gourmet restaurant and people came great distances to eat there. I had a terrific steak and the best heirloom tomato salad I've ever had. But the best part was that we had a table by the windows from where we watched a gorgeous sunset. When we walked back to our cabin it was very dark and quiet, except for the waves crashing on the rocks below. It was quite memorable.
What's your favorite souvenir to bring back from a trip and why? I keep souvenirs very simple and I'm afraid they're not things that are authentic objects only found in those places. I like Christmas ornaments and have quite a few. They bring back nice memories when we decorate the tree each year. I also like to get t-shirts from universities I visit (a hobby of mine).
Of all the places you visited, choose one that changed the way you think about life or history… The place that comes to mind is the Cabinet War Rooms in London. It didn't really change my view of history, but it magnified my view of World War II. Being in a city where bombs were dropped during the war and in that underground place where the government was being run really brought the experience vividly to my mind. The rooms look very much as they did right after the war. I was there in 2002 before the new museum was added and it was extremely quiet the day I visited. I was actually walking down the same halls that Winston Churchill had walked, completely alone. It was an intense experience for me.

I want to thank Cathy Sweeney for a great interview and insight into this experienced travel blogger's background. Don't forget to follow Cathy on Twitter @TravelingWithS.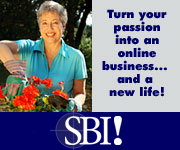 Marianne Schwab
TV Travel Show Producer
Best Travel Deals Tips

Back to Best-Travel-Deals-Tips Home Page
---